"We are dying here. We need your help." I had just poured a cup of coffee for myself early one Monday morning. A CEO who had recently joined MAQIN—Madison Area Quality Improvement Network—was on the line. "We have 50 improvement teams going on. We are paralyzed. We can't get our work done."
"Tell me again, how many employees do you have?" He said that his company employed 100 people.
"Stop the 50 teams," I advised. "Try one or maybe two. Prioritize. Decide which process most needs improvement and then put energy into it. Then share the results with everyone. People will learn process improvement without being overwhelmed by so many projects."
Another request for assistance came from a plastics company. The CEO asked to be put into a group with other plastics producers to get the most benefit out of MAQIN. I suggested that they would benefit more from working with different industries. For one thing, organizations that are not competing with each other will be more open to sharing what worked for them and what didn't. "Any process you want to adopt will have to be adapted anyway to your unique situation."
Leaders would often ask us for advice on creating a MAQIN-like structure in their communities. Later I would see the resulting brochure, and it would be MAQIN's but with another name. I knew this was not going to endure because the group had not done the groundwork to make it their own organization.
One of the most valuable lessons lies within these stories for creating a "Community of Practice" such as MAQIN. What works in one place will not necessarily work anywhere else. Multiple simultaneous projects that could work in a very large organization would not necessarily work for the smaller enterprise just starting out to learn how to improve processes. And at the macro level, a group of businesses or educators or community members, or a mix of all must make the Community of Practice its own purpose, leadership, structure, membership, and focus.
A Community of Practice is defined as a group of people "…who share a concern or a passion for something they do and learn how to do it better as they interact regularly"[i]. COPs are used extensively in healthcare and education today. We indeed had the passion and the concern in MAQIN for improving our respective organizations.
As more people became interested in quality, four women on the MAQIN Board were the stalwarts of its early success: Sue Rohan, Mary Zimmerman, Sue Reynard, and Marge Pondell. They asked, "How do we create a convening point where people in our community could learn about and then apply quality within their organizations?" The earliest support was entirely volunteer. The first and very successful Hunter Conference on quality practices and monthly brown bags were offered simply through volunteered services of individuals and their organizations.
I had the great good fortune to be hired as the first employee of the Madison Area Quality Improvement Network in 1988. Think about information transfer before the Internet. It's hard to imagine life before Google, but before the fall of 1998, when Google was formed, that was our reality. No email, no Twitter, no Facebook, but we were blessed with the enthusiasm and energy of our Board of Directors and early quality adopters. Finding multiple ways to build on that was essential.
Our Assumptions and Practices—There were many technical aspects to how we created this network, but creating a sense of community and ownership in whatever we did was essential. We were shooting for widespread adoption across sectors, so figuring out a process for involvement that felt and was engaging. Particularly in the first two years of my being the Executive Director, we found ways to say "Yes!" to those intrigued by quality ideas and philosophy. From that first little group seeking a convening point, MAQIN grew to a membership that included over 200,000 people. Some of the practices and assumptions we worked with were the following:
Cutting across artificial boundaries—Often, when members joined, they would assume we would connect them with other organizations like theirs – health care with health care, manufacturing with other manufacturers. We were glad to do that, and yet as described earlier, we helped them make connections with the broader range of sectors that were now at their fingertips. We encouraged members to look beyond their competitors to other members, often tackling similar internal improvements.
I remember how one member in manufacturing recounted how she had attended a session by a bank on using the voice of the customer. She said, "It was fascinating to learn how they thought about their customers and how they tapped that information. It opened my eyes to some new ways to incorporate that in our setting."
In MAQIN, people from different sectors learned together. This promoted more open exchange and helped erode some erroneous stereotypes often held among business, education, government, and non-profits. The community fabric was strengthened for that.
The community fabric was strengthened for that.
As MAQIN grew in size and stature, we also became a resource for efforts to improve our community. When the city of Madison was reviewing its strategic plan, it tapped MAQIN membership for advisory committee members. In another example, MAQIN helped the school district convene a group of leaders interested in improving education. Others asked members to serve on their Board of Directors. We helped people think big and beyond the borders of their organizations.
Offering options, not formulas—The teachings of W. Edwards Deming were an essential foundation and inspiration for MAQIN. Several months after Dr. Deming died, someone asked me if MAQIN would continue in light of his passing. Of course, we would continue! In the spirit of providing options, MAQIN was not tied to one theorist or one approach to organizational improvement. Over the years, we brought in Peter Senge and Daniel Kim to expand our understanding of complex systems. We brought in Meg Wheatley to discuss change and Peter Block on community-building. Some other networks around the country wondered if we were being disloyal to our roots to expand into organizational effectiveness. We provided what we felt would be most beneficial to our members and that still, at its core, was consistent with quality. Experiences that could shorten their learning curve would be invaluable.
Promoting partnerships—MAQIN was not a one-way value proposition. When people or organizations joined, we tried to find ways to utilize their strengths. In the early years of my tenure, for example, before another staff was hired, we had teams of member volunteers who worked with me on different aspects of planning and offering our annual conference. This was theirorganization – and the pride and enthusiasm that came from that was infectious and helped us grow. Admittedly, it was clunky at times, but I knew we were planting seeds.
Being Accessible—We wanted the membership to be accessible financially and psychologically. We developed organizational membership levels based on the numbers of employees and then individual memberships. When an organization became a member, they had access to the full range of our services, no questions asked. Those without the financial resources to attend our annual three-day conference headlining the best and brightest thinkers from across the country could experience those keynotes via the videotapes we captured that were available for check-out through our Resource Center.
We wanted them to walk away with ideas, feeling they were heard, and wanting to come back soon.
Supporting Innovative Thinkers—Madison was blessed with many luminaries in the quality field—George Box, Brian Joiner, Peter Scholtes, and others. These thought leaders were constantly chewing on new ideas. We found ways to engage with them and leverage their connections in service to community learning. They and other quality folks around the country experienced MAQIN as a way they could test or explore new thinking. Our welcoming them to do that gave them a network for pushing the envelope of their thinking.
Engagement of all levels—It would have been easy to establish executive-level learning groups, but we resisted that – Title wasn't an essential ticket of entry. We organized member interest groups around topics, which were largely self-organized (for example, hiring, decision-making, performance appraisals, etc.). Free and announced in our monthly newsletter (still no internet at this point), whoever showed up was the right group of people. We would track those interests and look at learning resources for our Resource Center or seed the discussion with innovative work that we knew some member organization was doing. When the need was met, the group would disband.
Nurturing relationships and fun—All of us on staff spent a good portion of each day on the phone with members – connecting them, suggesting resources, asking for their help, listening to their concerns. Perhaps MAQIN was the internet of its time! Our staff and Board became experts in sourcing questions with options. We wanted members to feel a sense of excitement and hope about the challenges they faced. And, we knew that every moment they invested with us was a choice. We wanted them to walk away with ideas, feeling they were heard, and wanting to come back soon. We once even jazzed up our annual meeting with a caption contest of Gary Larson cartoons we posted on flip charts around the room. We could do good work and have fun at the same time.
Appreciating MAQIN
I had never trained or led a process improvement team. Yet part of my role in my new job was to work with teams in the shop on improvement projects.

One day, I saw a flyer from Madison Area Quality Improvement Network (MAQIN) on High-Performance Workplaces.  MAQIN offered tours of various companies around Wisconsin that practiced quality, Lean manufacturing, and continuous improvement.  I was hooked.

Three or four times a week, I would stop by MAQIN and check out books, videos, and tapes from their library.  I listened, read, and learned at night, then applied some method or tool the next day with the project teams. This is where I learned from the masters—Joiner, Scholtes, Deming, Juran, and all the other quality superstars.

When a  position opened up where I could work in quality and continuous improvement full-time,  I got the job! I have been consulting ever since, but it was MAQIN that opened up a world of quality for me, and I am grateful.

Walter Jankowski, 1962-2021
Modeling quality practices—MAQIN's commitment to participatory management spoke to the value and contribution of each worker. Clarifying processes, discussing how decisions would be made and according to what criteria (one of them being how that would impact our members), and letting the data drive improvement were how we did business. MAQIN always tried to practice the improvement methodology it was promoting. We routinely took stock of where we had been and where we needed to go.
Selecting the Board with Intention—A critical criterion we looked for in Board members was an interest and willingness to roll up their sleeves; we didn't want a board composed of figureheads. This meant we didn't pursue candidates who would have been prestigious but absent. We sought out informal leaders whose words carried weight in the community, who inspired others, and had a deep knowledge of the community. Those people are gold. Commitment is the greatest gift.
Creating an Oasis—Community issues are often intertwined with history and politics. One of the true assets of MAQIN for the community was that we were considered by most to be a neutral and apolitical convener. Since we were considered a safe place to learn, we could call people together without them fearing that we had a hidden agenda. This provided a way for people to convene, be heard, explore new ideas, and work on solutions together.
… making sure we're asking the right questions.
Acting in the Context of a Vision—An organization's vision sets the direction for its journey forward. A series of activities may be well-received, but if these don't tie into a larger whole, there is no momentum, no foundation on which to build. Think big, but also take small steps to make the vision happen today, tomorrow, a month from now.
Capacity-building—Throwing information at people and problems is not building knowledge or capacity. Instead, creating conditions for facilitating honest, fear-free discussion and insight sets the stage for people to be able to work on systemic improvement. It will take longer, but the results will be more sustainable.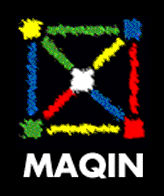 Cultivating courage—Choosing to be intentional requires courage. Committing to help create change requires internal reserves to dare to stand with openness and integrity as we explore unknown territory. Leaders are often asked to embody the impossible: to have all the answers. It's a desire we all have to eliminate the uncertainty. Leadership is best when it helps shift this inclination toward making sure we're asking the right questions and giving enough time to allow experiments or gains to take hold.
Embracing change—Communities are not static—and we wouldn't want them to be. The question is not whether organizations or communities change, but what our purpose is and the values we keep at the core to keep us centered as we move into new and unexplored areas. Resist the urge to resist.
Serving as MAQIN's Executive Director was one of the most significant opportunities of my lifetime. I was regularly awed and impressed by how people took what they learned through MAQIN and applied it to benefit their organizations. It was thrilling to be part of that process.
Barbara Hummel served as Executive Director of MAQIN from 1988 to 1997. She developed a consulting practice focused on leadership and collaboration practices and worked with several countries in the European Union and Australia to establish broad-based community networks.
[i] Wenger-Trayner, E. and Wenger-Trayner B. (2011). What is a Community of Practice? https://wenger-trayner.com/resources/what-is-a-community-of-practice/